Board Compleet met CX4 van 286 voor 279 euro
Trucks(ook geschikt voor longboards): C7 met C2 achter voor 99 euro, CX4 met C2 achter van 89 euro.
Ergens anders goedkoper? Dan pas ik de prijs aan!
Voor shops in Nederland! Neem contact op voor de dealerschap van Carver Skateboards.
2
surfstyle

Carver trucks


C7 surfstyle truck
This is the signature truck that started it all. Still the smoothest turning, fastest pumping surf truck ever, it's at the leading edge of true surfskate performance. The patented second axis of this front truck not only increases the turning radius of your carve, but lets you snap the nose and pivot your turns off the tail. This dynamic creates thrust and drives you forward with increasing speed. The striking similarity to surfIng performance has made the C7 the choice for surf training by pros and ams alike.


Nieuwe CX surfstyle truck
All new CX4. This is Carver's hybrid surf and skate truck. On the one hand it's a lightweight standard RKP (Reverse King Pin) hanger and base, on the other it has a patented geometry that squeezes every bit of turn and pump from the system. This means that you can pump this truck like a C7, but it lands airs and rides fakie with more stability as well.

Boards (selectie, ander modellen op aanvraag verkrijgbaar)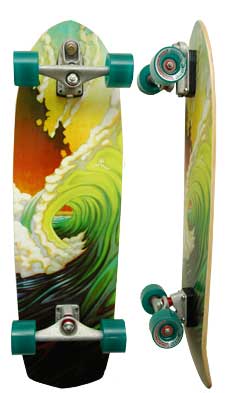 34" Greenroom
Updated for 2012, this mid-sized board is the perfect retro rider; wide diamond tail for solid foot placement and stretched out wheelbase for wider stance and increased stability. The Artist Series graphic is by renowned surf artist Matt Beard.
9 7/8" wide
6 5/8"tail
4 1/4" nose
18 7/8"wheelbase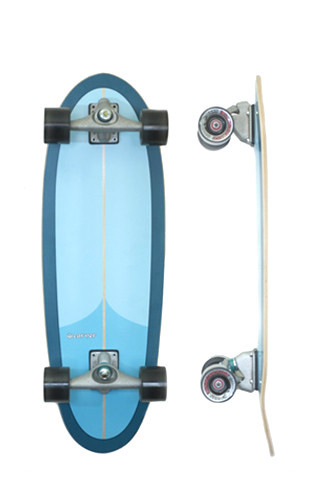 30" Eggbeater
We love progressive surfing as much as the next shredder, but we also love the current look back at vintage surfboards and traditional styles of wave riding. Inspired by all the little Eggs we're seeing in the line-up, we made the Eggbeater in the style of a single fin hull, a rounded pintail.
9 3/4" wide
6 1/8" tail
3 1/8" nose
16 3/4" wheelbase

31.25" Stacked
A classic rounded squash tail with a full nose, the Stacked is so named because of the stack of peeling waves in Alex Krastev's painted graphic. Stacked! The mid-sized length falls nicely between our shorter progressive models while inching up on some of our mid-sized models, making for a well rounded, universal cruiser. The extra width in the nose allows you to stand farther forward while keeping plenty of foot support, letting you take a wider stance and move around more. And the fuller template throughout feels comfortable, sort of like a mini longboard, but it never feels big. It easily retains a nimble handling, and with its 17 3/8" wheelbase has the stability to carve down steeper inclines and hold the faster line without twitching, as well as pump fast lines on the flats. The Stacked is the shortboard cruiser, the good commuter and pusher that can still dart up a driveway for a deep roundhouse while carving down a hill. This board will work equally well with either the C7 or CX truck sets; the C7 set will give the board a more flowing performance with a great range of adjustability, the CX set will give the board a more snappy performance with a lighter frame.
9 3/4" wide
6 3/8" tail
3 3/8" nose
17 3/8" wheelbase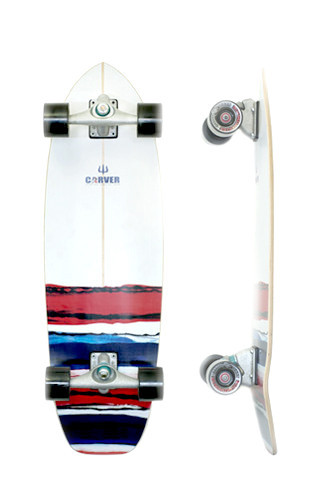 32.5" USA Resin
We refer to this board around the factory as the 'Masters' model, because we recognized that the bigger guys on the USA Surf Team needed a model too. Like a 6' 10" surfboard, this is a performance board for the men on the team, a board that holds a fast line with its extended wheelbase, all the while cutting smooth lines across the asphalt with the stability of full sized performance deck.
9 7/8" wide
6 1/2" tail
3 5/8" nose
18" wheelbase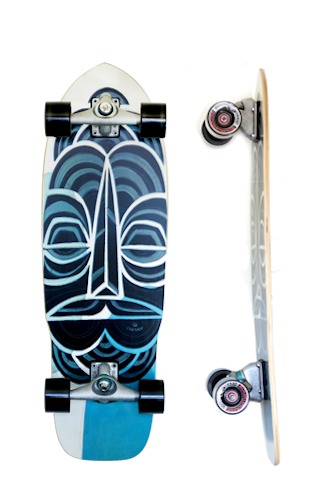 32"
Inallofus
The Inallofus reintroduces our Rocker mold, a flat-rockered shape that curves upward just like your surfboard. We have all become so accustomed to decks with concave that we forget how good it feels to ride a flat-rocker deck. The first thing you'll notice is how the curvature of the deck cants your feet inward slightly, leading you to drop your knees towards each other. This stance in combination with a flat deck feels more like you're standing on a surfboard than any other deck.
10" wide
5 7/8" tail
3 1/2" nose
18 1/2" wheelbase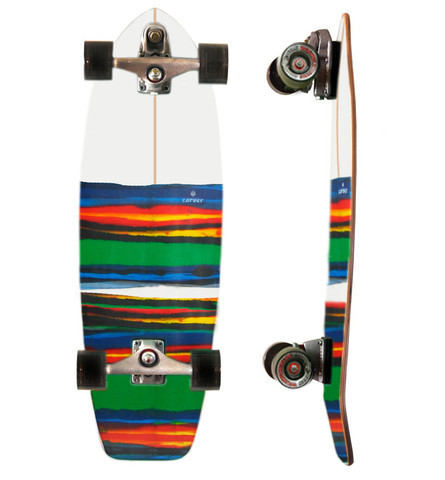 Resin
The 31" Resin. The narrow nose template and wide tail is just like your favorite squash-tail wave killer. It's plenty wide and just the right length so you can snap and pump the flats with ease, and drop in to any hill with confidence.
9 3/4" wide
6 1/4" tail
3 1/2" nose
17 " wheelbase

36" Venice Blue
(advies voor pool met CX4 en 65mm rounded wielen)
Born on the streets and banks of Carver's hometown neighborhood of Venice, CA, this stretched out shortboard is the same as the first prototype deck used to develop the original C7 truck. Big hill surfing, street traveling, bowl riding; this board does it all. Artist Series graphic portrait of Venice by Marco Almera.
8 7/8" wide
7 1/4" tail
6 7/8" nose
18 1/8" wheelbase

Prijzen Shop
Ergens anders goedkoper? Dan pas ik de prijs aan!

Board Compleet met C7 van 296 voor 289 euro
Board Compleet met CX4 van 286 voor 279 euro

Trucks
- C7 set  99
- CX4 set  van 89

Truck C7 + Wheels 70mm   van 190
Truck CX4 + Wheels 70mm  van 180

Wheels + bearings         80
Skatetool    20    

Lagers/ Bearings 26

 

Beschikbare decks (L= lengte in inch, WB= wheel base in inch)

Surf   120 euro
- Tye Stick (5")     L25,5"    WB14,25"
- Kerrzy Snapper     L28"    WB14,87"
- Swallow     L29"     WB15,50"
- Serape     L29.75"     WB16,25"
- Eggbeater     L30"     WB16,50"
- Firefly     L30,25"     WB16,50"
- Amber Flag     L30,75"    WB16,75"
- Da Monsta     L31"    WB17,00"
- Resin     L31"    WB17,00"
- Stacked     L31,25"     WB17,75"
- Kerrlage     L31,75"    WB17,50"
- USA Resin     L32,5"    WB18,00"
- Flying Manta L31,5" WB18,50"
- Inallofus     L32"    WB18,50"
- Greenroom     L34"    WB18,87"
- Diamond     L35"    WB18,87" (niet online)

Transition/Pool 120 euro
- Vinice Blue / Funnline Venice
- Surfpunk     L32"    WB14,75"

Longboards 140 euro
- Venice pintail     L36"    WB20,50"
- Lola     L36"    WB20,50" (niet online)
- Hottdogger     L42"    WB26,75"

Freeride 140 euro
- Chopsicle     L38"    WB26,00"
- Platypus    L42"    WB28,75"
- Drifter    L41"    WB31,00"